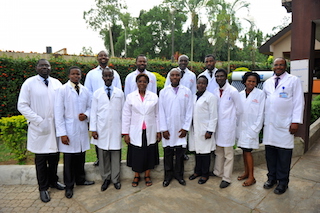 At Molly Specialist Hospital, we treat our personnel with dignity and pride because they are the people who make the difference in the lives of our patients. Each of these employees, from nurses to doctors, and specialists, has the training and competence to provide consistent patient-centred care.
Our strengths:
MSH is indeed a centre for training and development especially for residents who seek to train in a knowledge-driven environment with emphasis on evidence-based medicine.The hospital is accredited by the National Postgraduate Medical College of Nigeria as a centre for tutelage of senior resident doctors in Family Medicine.
Collectively, our medical members of staff have over 300 years of practice in family medicine, internal medicine, surgery and in-patient management.
In addition to their training, our medical members of staff have significant medical experience in emergency care. They also have experience in managed care operations and are vast in the operations of the National Health Insurance Scheme (NHIS).